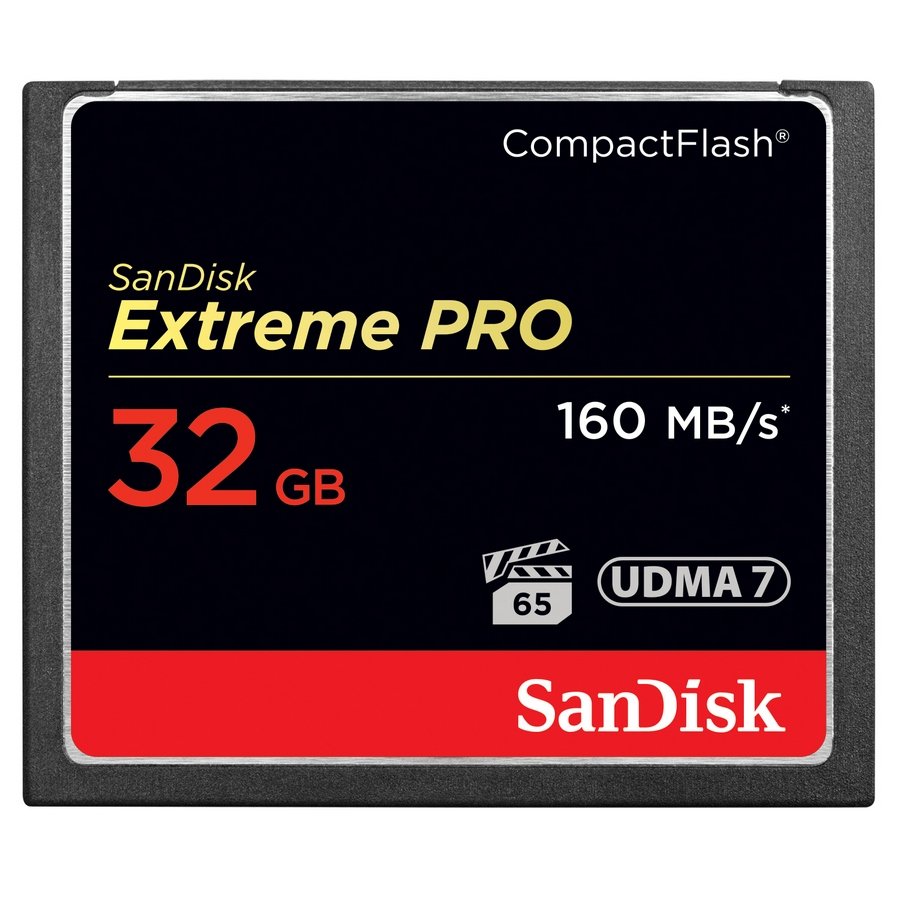 Sandisk Extreme Pro 32GB Compactflash
Now there is a card fast enough to keep up with your advanced DSLR and Pro Video Camera: SanDisk Extreme Pro CompactFlash, now optimized for cinema quality 4K video recording with Video Performance Guarantee-651 (VPG-65) secures 4K and Full HD video2 capture at a minimum sustained write speed of 65 MB/s. Plus this card dramatically improves workflow performance with industry leading transfer speed up to 160 MB/s, and delivers blazing fast shot speeds of up to 150 MB/s for advance functions such as fast action and continuous burst mode shots.

Description
This removable storage medium allows data to be written and erased as often as is required
Especially recommendable for high-end digital cameras
Suitable for terminal devices with a CompactFlash type I and II slot
Extended, tested temperature range from -25°C up to +85°C
Supports VPG-65 specification for video recording with a resolution of up to 4k
Supports UDMA 7 mode (downward compatible)
Water-repellent, shock-vibration tested housing
Original brand name product from SanDisk.
SanDisk Extreme Pro cards are designed for professionals and come with a lifetime limited warranty. That's why professional photographers trust SanDisk for the performance and reliability they demand.