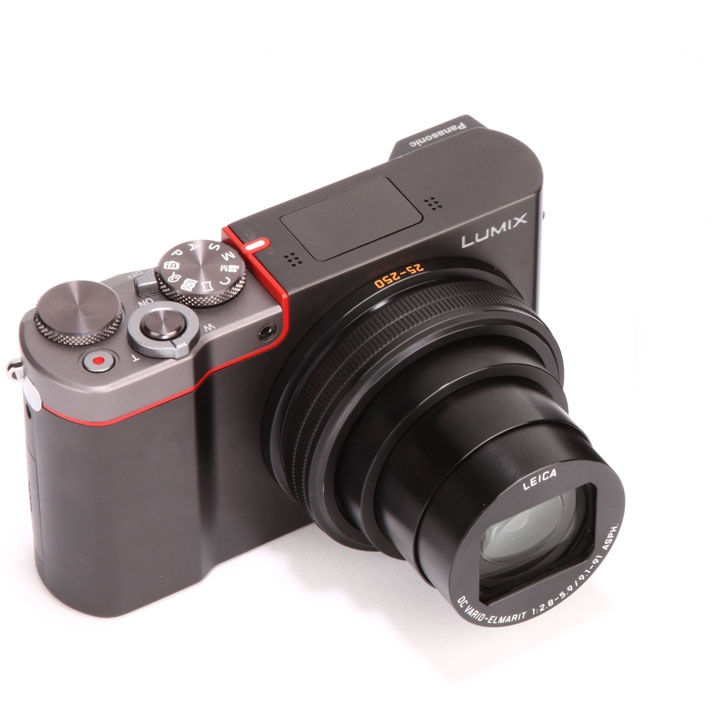 Panasonic TZ100
The Panasonic LUMIX TZ100 boasts 1-inch large High Sensitivity MOS Sensor at the heart of the camera to feature 20.1-megapixel high resolution image recording with unprecedented picture quality. Not only the powerful 10x optical zoom (25-250mm : 35mm camera equivalent) LEICA DC VARIO-ELMARIT lens, the new LUMIX TZ100 features 4K video recording capability - all in a slim, small body profile.
Description
1-inch MOS sensor Realize high quality image recording with stunning details. The combination of the High Sensitivity MOS Sensor and the new Venus Engine achieves max. ISO 12800 high sensitivity recording with stunning picture quality that goes beyond the limit of digital compact camera.
25mm ultra wide angle LEICA DC VARIO-ELMARIT lens
The LUMIX TZ100 boasts a powerful 10x optical zoom (35mm camera equivalent: 25-250mm) and 5-Axis HYBRID O.I.S.+(Optical Image Stabilizer Plus)*1 offer versatile angle of view while suppressing hand-shake in both photo and video recording.
High-resolution 4K video
The LUMIX TZ100 records stunningly smooth, high-resolution QFHD 4K video in 3840x2160 at 30p(60Hz) / 25p(50Hz) or 24p in MP4. Taking advantage of 4K technology, users can enjoy 4K PHOTO and a variety of derivative functions such as Post Focus, Light Composition or 4K Live Cropping.
3.0-inch 1,040k-dot rear monitor
The LUMIX TZ100 incorporates a 3.0-inch 1,040k-dot rear monitor with newly adopted touch control system and a 0.2-inch 1166k-dot EVF (Electronic View Finder) with eye sensor. High precision AF with DFD (Depth From Defocus) technology For even faster response and higher mobility.
Wi-Fi® connectivity
The LUMIX TZ100 integrates Wi-Fi® connectivity to offer more flexible shooting experience and instant image sharing with easy operation. Plus, the LUMIX TZ100 users are eligible to have free 100GB storage on Google Drive™ to save photo and video data*3. The LUMIX TZ100 is capable of shooting images in RAW and develop them in camera.
Venus Engine Processor
The image processor Venus Engine is also newly developed for LUMIX TZ100 to dramatically boost its performance with new quad-core CPU that lets high speed signal processing required for rich video recording such as 4K. The advanced Multi-process NR (Noise Reduction) applies effective noise reduction and detail processing according to each component frequency. Plus, newly added Random Filter granulates chromatic noise to be blended into the image even more naturally. As a result, the max. ISO 12800 is achieved. Newly adopted aperture filter is capable of controlling over wider frequency range. It adjusts the amount of sharpness according to the frequency level, giving rich depth. The Venus Engine also improves color reproduction with accurate evaluation of each color even it is similar not only in colour phase but also in saturation and luminosity.
4K PHOTO
Taking advantage of 4K technology, users can enjoy 4K PHOTO with LUMIX TZ100. With the 4K PHOTO, users can capture the fleeting photo opportunities at 30 fps in 8-megapixel equivalent resolution by extracting a frame of the most photogenic timing out of the 4K burst file to save as a photo. Three exclusive functions are integrated to make the 4K photography even easier; 4K Burst Shooting, 4K Burst (Start/Stop) and 4K Pre-burst.
Post Focus
The LUMIX TZ100 comes with the Post Focus function that enables users to select in-focus area even after shooting. You can get multiple shots with different focus point with a single shutter release to choose from. It is helpful in situations like macro shooting where severe focusing is required or for changing expressions by changing focused subject. This function has been developed by combining the high-speed, high-precision DFD (Depth From Defocus) auto focus technology and the 4K technology. Burst images in 4K resolution (3840 x 2160 pixel) are shot at 30 fps while detecting max. 49 areas of a frame to set focus on each of them. Operation is quite simple and easy – just shoot an image in a Post Focus mode and touch on the point where you want to set focus while playing back the image.
Intuitive Control & Freely Customize Settings
The smooth and intuitive control ring and rear dial allows the user to customise their photos, getting creative with aperture, shutter speed, program shift, focus adjust and a variety of different picture effects and customization options.